Build a Development Plan
Built-in drills endorsed by the National High School Basketball Coaches Association (NHSBCA) and designed for overall skill development at any stage of a player's basketball journey.
Gamify Training
Players climb the leaderboards with every assessment and training task they complete. Players have an opportunity to compete against friends, teammates, or the entire basketball community.
Get Better Every Day
In-season or out, coaches can measure, track, and evaluate a player's skill progression over time with the Ballogy Skills Assessment (BSA) or customized basketball drills of their own.
Create Accountability
Players record each training task or drill they complete via the Ballogy app, providing tangible results and visibility into their skill progression and year-round development.
Ballogy Skills Assessment
The BSA is a first-of-its-kind universal shooting metric available exclusively on the Ballogy app. Developed with input from middle school, high school, and collegiate-level coaches and athletes, the BSA is designed to objectively evaluate a player's shot-making abilities in various contexts and provide a certified score. Video of the test is captured in the Ballogy app and is immediately reviewed, verified, and scored by Ballogy certified coaches and added to the athlete's profile. Ballogy takes the top performers from the BSA global leaderboard and showcases their test scores and basketball profiles to more than 1,500 NCAA, NAIA, and junior college programs.
Learn more
A
first-of-its-kind

basketball performance app

Built-in Skills Development and Assessment Program for Coaches and Their Players
Homepage
Monitor BSA rank, score, and streak status and quickly access training groups and notifications all from the palm of your hand.
Groups
Follow guided workouts in the Ballogy Training group or join your own team's private training group.
The BSA
Take the 40-shot BSA for a chance to make it onto the global leaderboard and into the monthly Top Performers Report.
Tracking
Track long-term performance on the BSA to objectively track and evaluate your performance over time.
Leaderboards
Move up the ranks of Ballogy leaderboards and gain exposure at the next level.
Training Program
Explore 100+ built-in training drills developed by professional players for athletes at any skill level.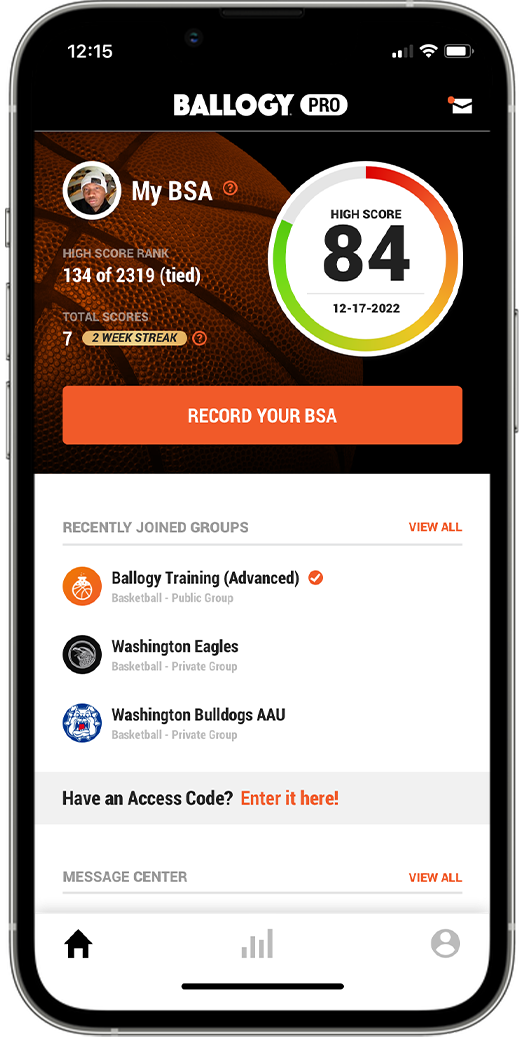 Our Partners
Join the
Ballogy Nation
Get exclusive coaching tips, drills, and challenges, as well as our monthly Top Performers Report.
Contact Details
Ballogy Headquarters
13875 Bee Cave Pkwy
Austin, Texas 78738
[email protected]